What is Neem Powder – Traditional Ayurvedic Medicine?
All You Wanted to Know About Neem, The Secret Behind Indian Cuisine and its Medicine
Neem fruits, leaves and flowers play a vital role in the Indian Subcontinent, both in the kitchen and in traditional Ayurvedic medicine. Yet, for the outside world, neem is practically unknown.
At first glance, you could easily mistake the drupe-like green fruits with olives, but make no mistake, neem couldn't be more different. Perhaps the only common trait between the Mediterranean green olives and neem is their versatility. Here's all you wanted to know about neem, what is neem powder and more.
What Is Neem?
Neem is a tree that grows in the Indian Subcontinent, and it's part of the mahogany family. Called Azadirachta indica, the evergreen neem tree thrives in tropical climates, and everything, the fruit, flowers, leaves and bark have been used for centuries — it was mentioned in texts going back to the year 320 B.C.E.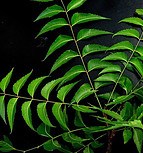 Neem is also food. You must remove the peel, but you could eat neem fruit from the tree. The tender green shoots and the flowers are edible, too, and are enjoyed as part of India's vast diversity of vegetables. The elongated, serrated leaves have lots of uses; they can keep insects at bay, but dried and powdered, they play a part in the cosmetic and health industries. We're talking about one of the most versatile and useful plants on earth, and you'll be seeing more of it. Scientific research continues to discover benefits of the plant that can do it all — neem.
Health Benefits Of Neem And What Is The Use Of Neem Powder?
Neem leaves are packed with antioxidants, making neem powder one of the better ways of combating free radicals in our bloodstream, which are responsible for premature aging, inflammation, cell damage, and even some types of cancer.
Neem powder is also a reliable source for anti-inflammatory compounds fighting chronic inflammation, joint pain, hypertension, heart and kidney disease.
Potent anti-microbial properties in the plant are effective against some bacteria, viruses and harmful fungi. This is why neem powder or neem oil are used in cosmetics such as shampoos, skin moisturizers and face masks. The Indian plant has proven to be effective against aging signs, reddening and skin inflammation.
Along with matcha, the Japanese powdered tea leaves, neem powder is one of the most potent plant-based supplements in the market and a super food in its own right.
What is Neem Oil good for?
Neem oil is extracted from the seeds of the neem fruit and the leaves. The first uses of the oil, going back for centuries, is the intensely aromatic oil's ability to repel insects. Even today, neem oil is part of some sustainable pesticides.
The oil has other benefits. In cosmetics, shampoo and soaps, it can promote skin health. As a supplement, the oil can reinforce your immune system, protect your from oxidative stress, and even improve circulatory and kidney functions.
Lots of clinical research is still needed to identify all the benefits of the bio active compounds in neem and its possible counter effects, but the results look promising so far, and the fact that it's been used for thousands of years successfully is reassuring.
Neem Uses In Gastronomy
If you're interested in the Indian culture, you've probably seen the tiny white neem flowers as decoration in holly festivals. The flowers are also often enjoyed in soup and stews too. You can also add leaves, flowers and tender shoots to stir-fries, and the fruit is a tangy and a pleasantly bitter one-bite snack.
Some or all parts of the neem tree are part of traditional dishes in India, Thailand, Vietnam, Myanmar, Cambodia and neighboring countries. Although lesser-known in western countries, neem is quite popular in Asia!
Make Neem Part Of Your Life
As you now know, adding neem to your life is not a bad idea. Start with adding to your shopping list products that include neem compounds as part s their active ingredients. Shampoo, body moisturizers, toothpaste and face masks well using the healthy plant might not be very common, but they are available.
If you have the opportunity of getting your hands on fresh neem leaves of flowers, by all means, cook with them, add them to your food and your smoothies.
Neem powder, the most concentrated and natural form of the healthy plant, is widely available in specialty spice and herb trading websites and the wide array of uses can drastically change your life positively. Enjoy the healthy (and tasty) benefits of neem today before the super food hits the mainstream.
---
Best Types of Neem to buy
Premium Organic Neem Oil Virgin, Cold Pressed
Organic Neem Leaf Powder can be puchased here
---
Highly Rated Social Posts on Neem
---
Sources
https://en.wikipedia.org/wiki/Azadirachta_indica
https://www.netmeds.com/health-library/post/neem-leaf-powder-incredible-benefits-for-skin-hair-and-overall-health
https://timesofindia.indiatimes.com/life-style/health-fitness/home-remedies/herbal-remedies-20-health-benefits-of-neem/articleshow/20083389.cms
https://www.medicalnewstoday.com/articles/325048#benefits
https://www.rxlist.com/neem/supplements.htm
http://www.frienvis.nic.in/WriteReadData/UserFiles/file/pdfs/Neem.pdf
https://www.saferbrand.com/articles/benefits-uses-neem-oil-for-plants