What is Cardamom Spice & How to Cook With It
What Is a Cardamom? How to Cook With It and All the Types Explained.
Cardamom is an extraordinary spice with a worldwide presence. Although native to India, today, 85% of the world's cardamom is harvested in India, Indonesia and Guatemala, and two-thirds of it goes to Saudi Arabia and neighboring countries.
The spice is so prized in the Middle East, the International Cardamom Association is based in Dubai.
Cardamom is amongst the most expensive spices in the market for a reason; it needs to be harvested by hand in a labor-intensive process that only yields between 50 and 150 pounds per acre. The spice's price, though, is not as important. Aromatic and tasty, and also super healthy, cardamom has a special place in our hearts.
Here's all you need to know about cardamom. What is a cardamom, what is a green cardamom, what is black cardamom, what is cardamom spice, and the answer to any other questions you might have.
What is Cardamom?
Cardamom is an aromatic spice obtained from the seeds of two plants of the Zingiberaceae or the ginger family. There are two significant cardamom types, the green cardamom, got from the Elettaria genus, and black cardamom, from the Amomum genus.
Cardamom plants thrive in tropical climates, and the small, pointy, almost triangular-shaped seeds have been used for millennia in the kitchen and the traditional medicine cabinet.
The ancient Greek botanist Theophrastus recorded cardamom's uses and importance vividly as early as the year 400 BCE. Today, it plays a vital role in the Indian, Middle Eastern, Southeast Asian and Scandinavian cuisines — in both sweet and savory dishes.
What Is a Green Cardamom? And What Is Black Cardamom?
Both types of cardamom, the green and black varieties, are widely used in the kitchen. If you're wondering what is cardamom spice? It's powdered cardamom pods and seeds, as both have aromatic properties.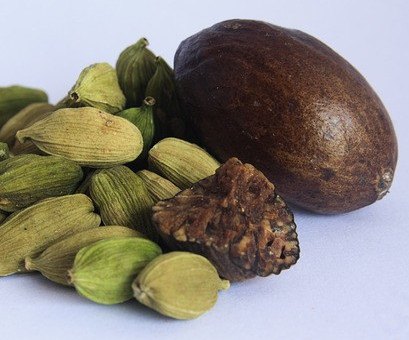 Green cardamom is better known for its aromatic intensity, reminiscent of earth and resin aromas and a peculiar freshness. This is the most common variety of cardamom.
Black Cardamom can offer deeper scents not dissimilar to smoke aromas, and even hints of mint. The black variety is larger than the green cardamom.
A white variety of cardamom exists and comprises green cardamom that has been bleached. This is a milder spice.
Cardamom Health Benefits
Both traditional healing and modern medicine back cardamom as one of the healthiest spices on the planet. Here are some of cardamom's health benefits.
Cardamom is a potent antioxidant that can help your body fight free radicals that can harm your cells through oxidative stress.
Cardamom has diuretic properties that promote hydration balance and reduce blood pressure.
Recent studies have shown active compounds in cardamom can increase the resistance against cancer cells and tumor development.
Cardamom's active compounds may have anti-inflammatory properties, vital to fight chronic inflammation, hypertension and liver inflammation.
Digestive discomforts, from nausea and an upset stomach to stomach ulcers, can be relieved with cardamom.
Cardamom also has antimicrobial properties and could help treat mild infections.
Cardamom Nutritional Value
Only one teaspoon of cardamom spice contains 4 grams of carbohydrates, 1.6 grams of healthy dietary fiber, and 0.6 grams of protein, all while adding only 18 calories to your diet.
Cardamom is also a superb source for iron, potassium, calcium, magnesium and phosphorus, essential minerals that your body can't produce, meaning you have to acquire them through your diet.
A Bio-active compound present in cardamom, α-Terpineol, is the source of the spice's most health benefits being a natural antioxidant, anti-inflammatory, anti-proliferative, antimicrobial, and analgesic.
The terpene called myrcene, also found in cardamom, mangoes and beer hops, is a well-known sedative and analgesic.
How to cook with cardamom
Cardamom spice is so intense you need very little of it to aromatize food. In India, the 'queen of spices' is a key ingredient in red curries and milk desserts. Famous rice dishes like biryani depend on cardamom's aromatics, too, and tea and coffee are often flavored with the warm cardamom flavors.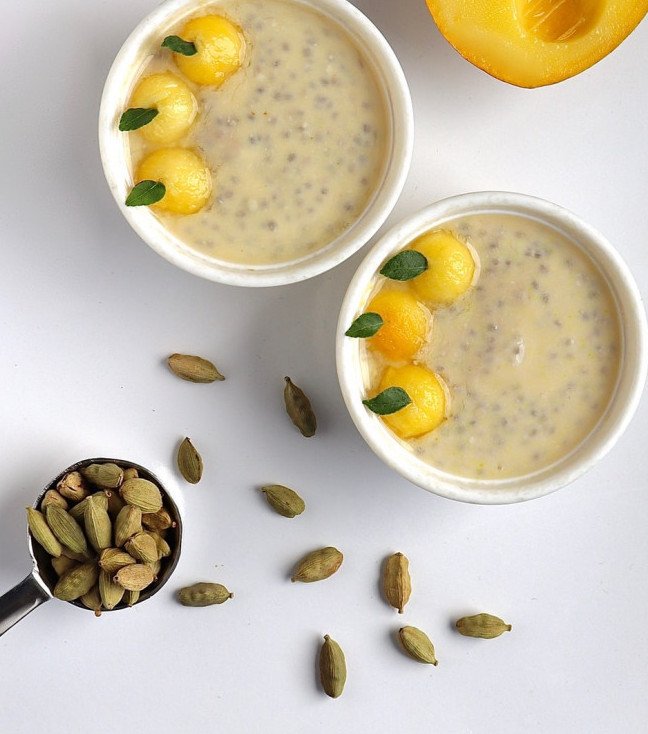 In Southeast Asia, cardamom gives flavor to curries, like the Massaman curry, stews, soups like the Vietnamese Pho, and noodles.
Middle Eastern cuisine uses cardamom often in stews, meat dishes and rice, but it also plays a part in desserts and the famous Turkish coffee.
Last but not least, cardamom is the secret ingredient behind Scandinavian baking, as it's used to make everything from buns to cakes.
Make Cardamom Part of Your Life
Now you know what is cardamom, how to use it, where it comes from, and why it's so good for you. Now, don't wait and make the aromatic spice part of your life!
Cardamom is a fantastic spice, and one of the most esteemed worldwide. Cook with it, bake with it or enjoy it as a health supplement, cardamom might very well change your life.
If you are patient and looking for a amazing organic Cardamom Pods then check out this source.
---
Highly Rated – Social Media Chatter on Cardamom
---
Sources:
https://www.healthline.com/nutrition/cardamom-benefits
www.sigccltd.com/cardamom-statistics/
https://www.tridge.com/intelligences/cardamom/production
https://www.tridge.com/intelligences/cardamom/import
https://www.thespruceeats.com/all-about-cardamom-995599
https://www.medicalnewstoday.com/articles/326532
https://en.wikipedia.org/wiki/Cardamom
https://link.springer.com/article/10.1007/s11947-020-02461-6
https://abstraxtech.com/blogs/learn/top-4-myrcene-terpene-health-benefits
https://finediningindian.com/2017/08/11/cardamom-spice-indian-cuisine/
www.sweetpillarfood.com/from-scratch/a-guide-to-middle-eastern-spices/
---