What is a Bay Leaf – Can it be ingested
All You Wanted to Know About Bay Leaf
Bay leaves are one of the most important cooking herbs on the planet; they're used in Asia, Europe, and the Americas. They're part of some of the most famous dishes of all time, and their uses go back to ancient civilizations, including the Greek.
Bay Leaves, though, have a unique trait found in a few other cooking herbs and spices, they're not ingested but discarded before serving the food. The leaf might be aromatic and a natural flavor enhancer, but it's too tough to digest, even when fresh.
Bay leaf is not a single plant, but many, and at least a dozen are used worldwide, making it one of the most widely used cooking herbs in history.
Recent scientific studies have examined bay leaves for their possible health benefits, and although more research is needed, there's no doubt the dark green leaves affect our organisms. It comes as no surprise the plant's leaves are part of the traditional medicine going back for ages.
Here's all you need to know about the bay leaf, how to use it, its possible health benefits, and where to get it. If you're not cooking with bay leaves, you're missing out, but it's always a wonderful time to start.
---
What is bay Leaf?
A Bay leaf is thick, relatively large, elongated, pointy, and an aromatic leaf used in cooking to add flavor to stews, broths, soups, and other concoctions around the world.
If you're wondering what is a bay leaf, bay leaves are actually not just one plant, but a family of aromatic plants that share similarities. There are over 2,500 related plants sharing traits with Bay Laurel, including the California bay leaf, the Indian bay leaf, the Indonesian bay leaf, the West Indian bay leaf, and the Mexican bay leaf.
The common bay leaf, widely used throughout the world, is 1.3% essential oils, including the familiar eucalyptol, and other aromatics, some associated with health benefits.
Bay leaf is not commonly eaten but used to give flavor and aromatics to food, which are reminiscent of thyme and oregano.
If eaten, the leaves are bitter and hard to chew. They're even harder to digest, so they should be removed from food before serving.
Although hard to describe, bay leaf aromas and flavors infused to food are instantly recognizable.
---
Where do I buy bay leaves?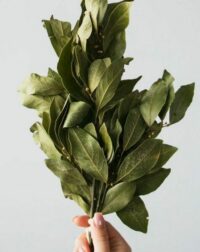 Bay leaves are most commonly used when dried, and they're
easily found online. Just one or two leaves are enough to subtly automatize stews, broths, and curries, so a small amount can last a long time.
Fresh bay leaves are rarer and more expensive and have shorter shelf lives, the dried variety will keep indefinitely. Both fresh and dried varieties mostly come from Turkey, but South America, California, and over a dozen countries produce some type of bay leaf too.
---
Health benefits of bay leaf
There isn't enough reliable scientific evidence of bay leaves' health benefits, but we have used the aromatic plant in traditional medicine for centuries.
Bay leaf could treat or regulate digestive discomfort, blood sugar levels, and, more recently, cancer.
A bio active compound in bay leaves, called sesquiterpene lactones, could react with vernolic acid in our bodies, reducing inflammation and protecting cellular integrity while strengthening our blood vessels.
Bay leaves have been used to treat bronchial infections.
The aromatic leaves could help reduce hemorrhoids and other gastrointestinal discomforts like bloating.
Traditional medicine uses bay leaves in some countries, including Turkey, to reduce inflammation and treat arthritis.
Bay leaf tea is an excellent source for vitamins A and C, and minerals including iron, magnesium, and potassium.
Enzymes in bay leaves could aid in digestion by breaking down proteins which may be one of the main bay leaf tea uses.
Bay leaf extract could prevent breast cancer, according to a recent study.
High doses of bay leaf extract could also help control glucose levels in your bloodstream and could even prevent diabetes.
Bay leaf could help prevent kidney stones, not only because it is a natural diuretic but also because it can reduce the urease enzyme production.
Bay leaf side effects
Bay leaves are not considered dangerous, but there are a few things to consider, especially if you consume it as part of an alternative medical treatment.
Bay leaf is not digested by our bodies, so they pass through our digestive system without being broken down by our gastric acid, or in our intestines. There's a risk of bay leaves obstructing your digestive tract.
According to some studies, a compound in bay leaves called sesquiterpene lactone can cause allergic reactions to some people, but these are rare cases.
---
Gastronomy – What to use bay leaves for?
The Indian bay leaf is ubiquitous in the Indian subcontinent, although bay laurel leaves can replace it. It plays a part in every significant Indian dish, including anything using garam masala, and rice dishes like biryani.
Most soups, broths and slow-cooked preparations in countries influenced by the Mediterranean climate use bay leaves, including France, Spain, Greece, Italy, and most North African countries where it's used in meat and vegetable dishes alike.
One of the other many bay leaf uses in cooking is that it's one of the classic herbs used in the French bouquet garni, the dried herb packed used to aromatize all typical French preparations.
Caribbean cuisines use bay leaves in adobos and even in the famous Jamaican jerk chicken. The southern American cuisine also uses the aromatic foliage, even in the most typical dishes like gumbo.
Mexican stews, including slow-cooked meat, pozole soups, adobos, and some sauces use bay leaves as flavor enhancers.
Bay Leaf, elevating cooking around the world
Enjoy bay leaf in stews, broths, and soups. One leaf can elevate your cooking experience to new, exciting heights. For bay leaves, it's true what they say, a little can go a long way.
Bay leaf is part of our history and will continue to automatize our food for many years. Get yourself a fistful of bay leaves and share this tasty information with your loved ones. Bay leave deserves some recognition!
Certified Organic and Hand Slected Whole Bay Leaf – Check it out
Bay Leaf Powder for Soups and Stews – Check it out
Please leave a comment at the bottom. We would really appreciate it.
---
Highly Rated – Bay Leaf related social posts
---
Resources
https://www.webmd.com/vitamins/ai/ingredientmono-685/bay-leaf
http://thetoxicologisttoday.blogspot.com/2010/09/bay-leaf-is-it-toxic-or-what.html
http://connection.ebscohost.com/c/articles/95212867/evaluation-volatile-oil-composition-antiproliferative-activity-laurus-nobilis-l-lauraceae-breast-cancer-cell-line-models
https://www.ncbi.nlm.nih.gov/pmc/articles/PMC2613499/#__abstractid549508title
https://www.healthline.com/health/5-possible-uses-for-bay-leaf
https://www.ncbi.nlm.nih.gov/pmc/articles/PMC3977070/#__ffn_sectitle
https://en.wikipedia.org/wiki/Bay_leaf
https://en.wikipedia.org/wiki/Lauraceae
https://www.rachaelraymag.com/real-food/why-fresh-bay-leaves-are-better-than-dried
https://www.thespruceeats.com/what-is-a-bay-leaf-995576